JUDGE CYNTHIA WESTCOTT RICE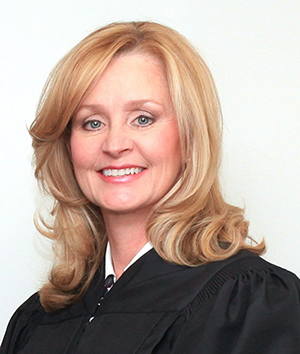 Judge Cynthia Westcott Rice was elected to the Trumbull County Court of Common Pleas in November 2022. On December 12, 2022, she was sworn in for the remainder of the term of Retired Judge Peter Kontos.
Judge Rice was elected to the Eleventh District Court of Appeals in November 2002. The court reviews decisions of the trial courts in Ashtabula, Geauga, Lake, Portage, and Trumbull Counties. Judge Rice has also been appointed to serve as a visiting judge on the Supreme Court of Ohio. She was elected Chief Judge of the Ohio Courts of Appeals Judges' Association for 2021.
Judge Rice has been on the Ohio Judicial Conference Executive Committee from 2011 to the present. She has served as the co-chair of the Criminal Law and Procedure Committee since 2011.
Judge Rice was employed as an Assistant Trumbull County Prosecutor from 1991 to 1999. First, she served as Chief Counsel for the Drug Prosecution Unit. Eventually, Judge Rice was appointed First Assistant Prosecutor in the Criminal Division of the Trumbull County Prosecutor's Office.
While serving as First Assistant Prosecutor, Judge Rice was appointed Chief Counsel for the Mahoning Valley Law Enforcement Task Force, Vertical Prosecution Unit. She was responsible for setting up this unit, which was designed to provide multi-jurisdictional prosecution of major drug law violations and in-house counsel for the task force. She coordinated efforts among the Mahoning and Trumbull County Prosecutor's Offices and the United States Attorney's Office. She was appointed Special Assistant United States Attorney from 1997 to 1999.
From 1999 to 2002, Judge Rice was an Assistant United States Attorney in the United States Attorney's Office, Department of Justice, in Youngstown, Ohio. As a member of the General Crimes Division, she prosecuted major felonies, including firearm and drug law violations, bank robberies, cyberstalking and interstate stalking cases.
Judge Rice is a member of the Ohio State Bar Association and the Trumbull County Bar Association, in which she served as its president from 1996 to 1997. She was a member of its Executive Committee for four years and a member of its Grievance Committee for three years.
Judge Rice received her B.S. degree from Purdue University Krannert School of Management and her J.D. degree from the University of Akron School of Law. She has been admitted to the Michigan Bar and to the Ohio Bar.
---
Judicial Staff
Magistrate: Jami L. Bishop  (330) 675-7871 cabishop@co.trumbull.oh.us




Bailiff: Hally Abruzzi (330) 675-2569 caabruzz@co.trumbull.oh.us




Court Reporter: Maribeth Leonard (330) 675-2569 caleonar@co.trumbull.oh.us




Assignment Clerk:  Sharon Ford    (330) 675-2841 caford@co.trumbull.oh.us